IABR Tours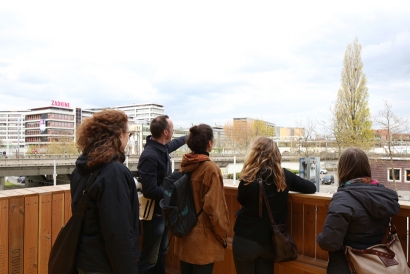 Photos: Ossip van Duivenbode
It is no longer possible to book IABR tours. 

Come bike with us and discover the IABR in one day with an inspiring tour
Who makes the city? Over 50% of the 7 billion people living on this planet live in cities. With this exclusive bike tour you will discover how we are trying to keep the city liveable in the future. We will show you how policy makers, architects, but especially citizens are actively working towards this goal in Rotterdam and other cities. 
Together with your guide and fellow bikers you will make connections between the various Biennale locations, all illustrated by examples. This way, you will get the unique chance to discover all that the Biennale has to offer in only one day. 
You will bike along (un)known locations in Rotterdam and visit the main exhibition in the Netherlands Architecture Institute (NAI). At Test Site Rotterdam people are getting down to business, which will give you more insight in 'Making City'.