12.03.12
Luchtsingel wins Stadsinitiatief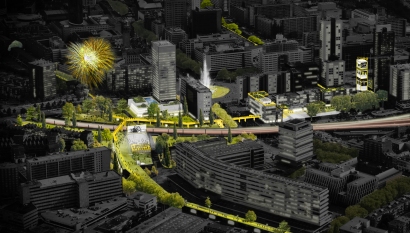 For two weeks, the citizens of Rotterdam have been voting for their favourite Stadsinitiatief. The Luchtsingel, proposed by ZUS has come out the winner. The result was announced tonight at the Rotterdamse Schouwburg. 
On 11 October 2011 the 5th IABR:
Making City
and ZUS launched the Luchtsingel, one of the project of 
I / We / You Make Rotterdam
. ZUS has been active raising money through crowdfunding, selling planks and bridge sections to finance the construction of this temporary pedestrian bridge linking the Central District and the Hofbogen. Now that ZUS has won, it will be able to realize the plan in its entirety.
If you would like to order your own plank or bridge section, with your name or other message engraved in it, there's still time. Go to 
www.imakerotterdam.nl
.