29.05.12
Biergarten Rotterdam – putting the pop up economy through its paces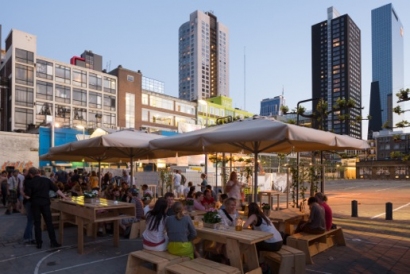 Photo: Ossip van Duivenbode
Biergarten Rotterdam opened to great success on Saturday 26 May. Biergarten Rotterdam is part of the Test Site Rotterdam in the Schieblock area, where new ideas about city-making are being put to the test. One of these is the 'pop up economy', a chance for people to run a small business, and to bring new life to a neglected part of the city. The Biergarten is a collaboration between Mess, KOM Soep, Fabrique Urbaine, ZUS, IABR and Almost Modern. 
The ingredients for the success of Biergarten Rotterdam couldn't be simpler – a variety of beers, healthy snacks, robust wooden tables and chairs produced by Fabrique Urbaine and, of course sun, and lots of it. 
The amazing weekend weather made Rotterdam's latest and sunniest beer garden a massive success. People lined up at the bar from afternoon to late evening, and every table was taken.
Biergarten Rotterdam is open from Thursdays to Sundays from 12.00 - 21.00 and will be in town until mid-September. For more info, visit the Biergarten Facebook page.