Making City Istanbul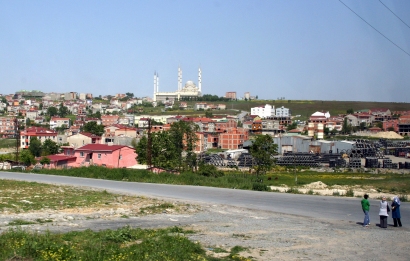 10.10.12 - 13.12.12
Location: Istanbul Modern
The results of the IABR
Atelier Istanbul
, set up by the IABR and the Municipality of Arnavutköy (Istanbul), were first displayed in the main exhibition of the 5th IABR:
Making City
. The design research conducted by the offices H+N+S Landscape Architects and 51N4E did not end with this presentation, however. A more elaborate version of the plans and new specific design proposals for pilot projects to be implemented by 2014 will form the core of the exhibition Making City Istanbul. This exhibition also features a selection of international 'best practices', which propose innovative answers to similar urban questions. 
Making City Istanbul is a collaborative project of the IABR and the Istanbul Design Biennial. The curators are Joachim Declerck (Architecture Workroom Brussels), Asu Aksoy (Istanbul Bilgi University) and George Brugmans (IABR. The exhibition is part of MUSIBET, one of the two main exhibitions of the Istanbul Design Biennial, and curated by Emre Arolat. The opening is on October 10 at the Istanbul Modern.
Making City Istanbul is realized with the financial support of the City of Rotterdam, the Municipality of Arnavutköy, DDFA and NLTR400.
Atelier Istanbul is financially supported by the Netherlands Architecture Fund.