13.07.12
Opening Luchtsingel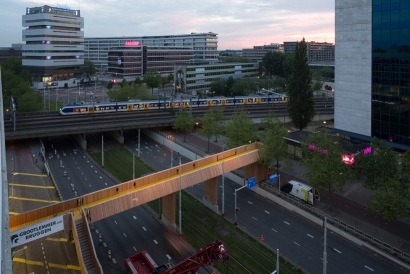 Photo: Ossip van Duivenbode
The completion of phase two of the Luchtsingel connecting the Schiekade with Pompenburg officially opens on Friday 13 July at 19.00 with a public performance. Everyone is welcome! 
Luchtsingel
Eleven weeks ago, this project won the 1st Stadsinitiatief contest, launching the construction of the Luchtsingel pedestrian walkway and the development of the surrounding public space. Now, as part of the Stadsinitiatief, the connection with the Hofbogen is underway, with plans to lay a park at Pompenburg in the spring of 2013.
The section of Luchtsingel spanning the Schiekade was installed on the night of 2 and 3 July. Grootlemmer, a specialist Friesland-based construction company, will complete stage 2 of the project on Thursday 12 July, installing the stairway on the Pompenburg side. We'd like to celebrate this victory over car traffic with all the crowd-funders, ambassadors, partners and Rotterdammers who support the project.
13 July: programme
Kicking off at 18.30, the opening will be held at two sites close to the Luchtsingel. Participants can choose which of the two locations they prefer: the BIRD terrace (Raampoortstraat 26 at the Hofbogen) or the Biergarten terrace (Schiestraat 6 behind the Schieblock). On reaching completion, the Luchtsingel will link these two sites.
Information about the Luchtsingel, the various phases, types of timber etc. is available on the night at the BIRD and Biergarten information points. And everyone wanting to be a part of the project can buy a plank with their name printed on it.
Location 1: (for people from Rotterdam NORTH & EAST): BIRD terrace, Raampoortstraat 26, Rotterdam.
Location 2: (for people from Rotterdam SOUTH & WEST): Biergarten, Schiestraat 6, Rotterdam.
19:00
– word of welcome by ZUS and official opening of the Luchtsingel by College LMC pro, with a participatory performance by Raoul de Jong and Gianluca Fratantonio.
19:30 – take a look at the Luchtsingel and/or drinks in the Biergarten.
The Luchtsingel is an initiative of ZUS and part of the 5th IABR: Making City.