01.03.12
Luchtsingel Polling Station opens in the Schieblock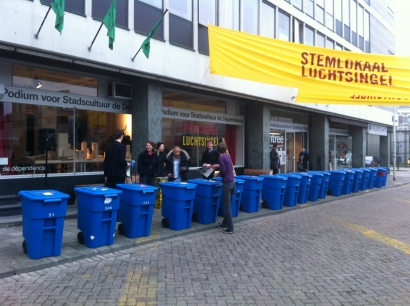 Rotterdam is in the grip of the Stadsinitiatief – a local council initiative to give everyone with a great idea for the city a chance to realise their dream. And, starting today, everyone living in Rotterdam (aged 12 and upwards) can vote on their favourite idea in the Top 5. 
The Luchtsingel, by ZUS, part of the 5th IABR:
Making City
, is among the top 5 proposals. If you'd like to vote online, please go to
www.stadsinitiatief.nl/stemmen
. Meanwhile, election fever has broken out in Rotterdam. Every candidate is working flat-out to win as many votes as they can.
To give the election battle a more personal feel, the Luchtsingel has opened its own polling station in the Schieblock. The polling station opened at 9.00 today. First to place their votes were Elma van Boxel and Kristian Koreman of ZUS.
Everyone living in Rotterdam is welcome to come and place their votes at the polling station. There's free coffee, and each 500th voter will receive a prize. The polling station is open on weekdays from 8.30 – 18.30 until 12 March.
Take a look at the different ideas for the Luchtsingel: a deer camp, an outdoor cinema, a stage for dance battles…