04.04.12
'DROOMSTAD' (VPRO): LOCAL PEOPLE TAKE ACTION IN THEIR CITIES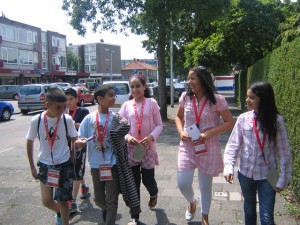 Wijktijgerpersbureau (Stichting Hoedje van Papier)
A skate hall in a disused church in Arnhem, a store that hands out free stuff in a disadvantaged neighborhood in Almere or free music lessons for kids in Utrecht. 'Droomstad' (dream city) is a collection of thirty short films about people who had dreamed up amazing ways of helping their community, and put their dream into action. The stories and the cities may be different but the energy and enthusiasm of each of these urban philanthropists are empowering and inspirational in the present economic downturn.
The VPRO website has uploaded two new dream city clips a day since 29 March. And, starting on 12 April, you can vote for your favorite idea. Two prizes – one selected by the expert jury and the other chosen by the public  – will be presented at de Dépendance of the Schieblock in Rotterdam on 19 May.
Director: Sarah Sylbing. 
'Droomstad' is made possible with the support of the Stimuleringsfonds voor de Architectuur. In collaboration with Shootlab and IABR.
'Droomstad' is part of the VPRO program 'The City Forever' (14-23 April), organized in collaboration with the IABR. For more information, see: www.vpro.nl/levedestad.