15.08.12
Succesful Urban Meetings Series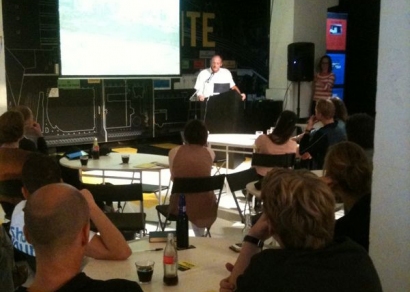 Frits van Dongen during the last Urban Meeting
The Urban Meetings have come to a close; the last session was held on 14 August, at the IABR Test Site Rotterdam. In a series of seven public talks moderated by Elma van Boxel and Kristian Koreman (ZUS) a number of people involved in urban issues presented their vision of 'city making'. 
Talks were given (in consecutive order) by the following:
>
the banker
: Dorien Putman, sustainability expert / manager institutional relations ASN Bank (5-6)
> the contractor: Jasper Sluimer, deputy director BAM Woningbouw (12-6)
> the project developer: Coen van Oostrom, founder of OVG (19-6)
> the investor: Wim Wensing, Director Investment Management Amvest (17-7)
> the politician: Maarten van Poelgeest, alderman in Amsterdam (24-7)
> the architect: Frits van Dongen, Dutch Government Architect (14-8)
You can read reports of the first two Urban Meetings on the
IABR blog
. The other reports will be posted shortly.