16.08.12
Last chance to visit IABR Test Site Rotterdam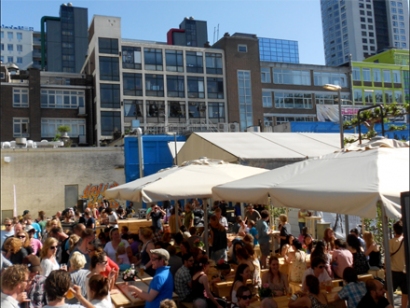 On Saturday 18 August, Rotterdam ArchiGuides, ZUS and Hollywood Music Hall bring the 5th IABR: Making City to a close. The Biennale is going out in style– come and join the fun. There's sun, beer, good music and great food! 
During the 5th IABR: Making City, Test Site Rotterdam was a hive of activity. With the Luchtsingel, the Tourcafé, the Biergarten, the Milkbar, a variety of exhibitions and tons of activities, Rotterdammers and guests from home and abroad were delighted to (re)discover this vibrant part of the city. 
So, come and enjoy the Test Site's very last weekend. Have a milkshake in the Milkbar (RiverClub Gallery), try out your wood-working skills with the NAI's leftover exhibition materials, or take a bike tour of IABR with ArchiGuides. Check out the programme in the
agenda
.
Making City Istanbul
In Rotterdam the fifth edition of the Biennale is almost over, but the programme continues in Istanbul. The exhibition 'Making City Istanbul' opens there on 13 October. The exhibition runs until 13 December 2012. For more details, take a look at the
program overview
.