12.04.12
Test Site Rotterdam undergoes metamorphosis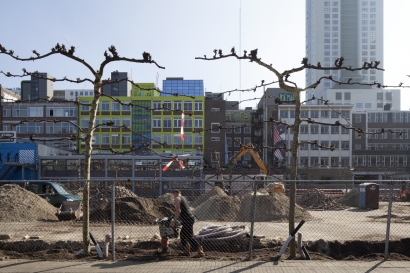 The trees (which originally grew by the Weena) have been planted on the Test Site Rotterdam. - Photo: Ossip van Duivenbode
Passers-by will surely have noticed that the Test Site Rotterdam (Schieblock and surroundings) is rapidly transforming into a new and vibrant hub in Rotterdam. For over two weeks now the first section of the Luchtsingel has graced the façade of the Schieblock building. What's more, the roof of Schieblock and the car park behind the building will be put to new uses.
Rooftop Crops in Rotterdam
The plans by
Codum
and architecture firm
ZUS
 for Rooftop Crops on top of the Schieblock building are becoming a reality. With the help of
Rooftop Farmer Annelies Kuipers
, fruit and vegetables will soon grow here, and bees will buzz around their hives.
IABR Tours
is one of the ways you can visit the Rooftop Crops project during the 5th IABR:
Making City
.
Adopted trees in new city park
Trees that once lined the Weena have been planted behind the Schieblock building. This is not a temporary intervention, but a permanent green improvement to a 'square' that had been abandoned for many years. Soon passers-by can enjoy the sun on the terrace here on fine summer days. This central place in the city will be transformed into a lively city park thanks to the interventions by ZUS. 
> More photo's of the Test Site Rotterdam under construction on the
IABR Facebook page
.
Test Site Rotterdam is a long-term project by the IABR and the architecture office ZUS.