20.04.12
Festive opening of 5th IABR: Making City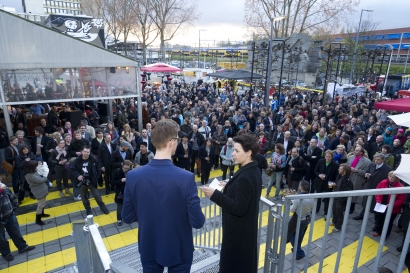 Opening Test Site Rotterdam - Photo: Michelle Muus
The 5th IABR: Making City started in festive fashion in Rotterdam amid widespread interest. 
After the official proceedings, which included speeches by Ahmed Aboutaleb (Mayor of Rotterdam) and Melanie Schultz van Haegen (Minister of Infrastructure and the Environment), the invited guests were able to view the exhibitions at the NAI: the
main exhibition 'Making City'
, with a spectacular design by Kossmann.dejong, and the
exhibition 'Parallel Cases 2 - Smart Cities'
. 
The guests then travelled along the ZigZagCity route in the city centre to the
Test Site Rotterdam
, where the Luchtsingel raised promenade was officially opened in a playful spirit. Other exhibitions that opened to the public were
'Design as Politics'
in the Mini Mall and
'Making Douala 2007-2013'
in the RiverClub Gallery.
The opening programme of the 5th IABR:
Making City
continues the coming Saturday, 21 April, with the official opening of the exhibition 
Making Almere
. For more information, click on:
www.makingalmere.nl
.