Making Douala 2007-2013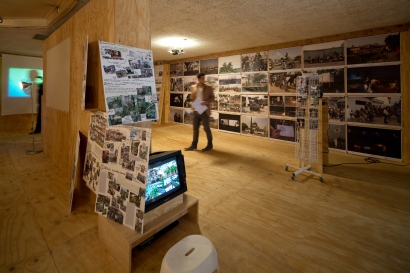 Photo: Ossip van Duivenbode
20.04.12 - 01.06.12
Location: RiverClub Gallery, Rotterdam
The exhibition Making Douala 2007-2013 has ended in Rotterdam.

Making Douala 2007-2013, the Traveling Exhibition of the Triennial SUD, shows the effects of inscribing contemporary art into public space on the daily life in and the perception of the city of Douala (Cameroon).
Making Douala presents the work of SUD, the Salon Urbain de Douala, through the representation of a selection of the projects and events that contributed to the success of the international triennial's editions in 2007 and 2010. It also introduces the preliminary ideas for SUD2013, entitled Douala Metamorphoses.


By realizing public art projects – both permanent art works and events – in the different neighborhoods of Douala, SUD addresses the state of the public domain in the city. To realize these projects by Cameroonian artists as well as by artists from abroad, SUD produces a collaborative process that involves the locals and their neighborhood organizations. The use of local resources and the support of local economies encourage the integration of the projects into the local context. The artworks themselves, with their artistic aims and cultural expressions, have a strong social and political dimension, as they aim to create a certain public-ness or public 'space', which is not found in many African cities.
Credits
Making Douala 2007-2013 is produced by doual'art and ICU art projects, in collaboration with Lucas Grandin.
Making Douala 2007-2013 was made possible with the financial support of the IABR, the Mondriaan Fund and Arts Collaboratory.
International Collaborative Urban art projects is a Rotterdam- based artistic project organization aimed at international knowledge exchange and the development of the public domain and urban space. More information:
www.icuartprojects.com
. 
Doual'art is a center for contemporary art and an experimental laboratory for new urban practices in the African city. Its artistic policy is oriented toward the support of artists who are actively engaged, through their research and practice, with urban issues. More information: 
www.doualart.org
.