Making Almere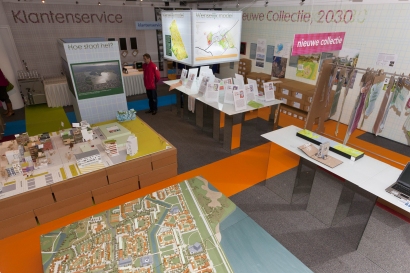 From top-down to bottom-up city-making
21.04.12 - 31.12.12
Location: City Mall Almere (main venue)
The exhibition Making Almere questions who makes the city, and who will make it in the future. 
Almere originated as a 'premeditated city'. In other words, it was conceived, planned and designed from the top down as a new city. Today it is home to more than 190,000 people. Thousands of residents with ideas of their own, and wishes that, unlike forty years ago, can actively help shape the future development of the city. Almere is thus reversing from top-down to bottom-up planning. 
The Making Almere exhibition examines the new direction followed by Almere. Visitors are challenged, sometimes even put on the spot, to come up with ideas and contribute to the city. The dynamic exhibition will expand continually with input from visitors and with the results of debates, guided tours, workshops and other events. What's more, visitors can use the Augmented Reality app UAR to learn about recent and future initiatives in the city. 
Credits
Making Almere is part of a collaboration between the IABR and the City of Almere. the city, as one of the CounterSites, is also represented in the main exhibition of the 5th IABR: Making City, at the Netherlands Architecture Institute in Rotterdam.
The International New Town Institute (INTI), headquartered in Almere, has taken on the role of curator of the second Almere architecture event and therefore of 'Making Almere.' INTI, as a representative of the City of Almere, works in close association with other parties in Almere.