5th IABR: Making City draws to a close, but the work continues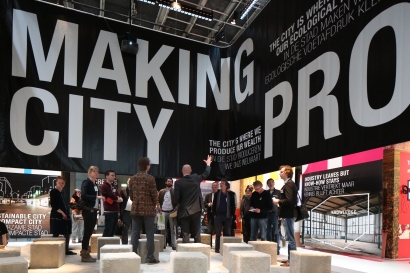 The festive closure of the exhibition Making City Istanbul, on 12 December in Istanbul, marks the official end of the fifth edition of the International Architecture Biennale Rotterdam, the 5th IABR. 
The exhibitions and other programmes in the Netherlands, Turkey and Brazil attracted 132,600 visitors. Almost 3 million people watched and listened to the TV and radio programs broadcast as part of 'Leve de Stad', a collaborative project of the IABR and the Dutch broadcaster VPRO.
IABR has started preparations for the 6th edition, URBANbyNATURE, which opens in May 2014.
Taking up the challenge
By the middle of this century, the number of people living in the world's cities will have more than doubled. Cities will produce over 90% of the world's wealth. This development urged the 5th IABR: Making City to pose questions about city-making strategies. How can we address the challenge of making city for such vast numbers? Do we really know how to design and manage cities more effectively? Can the city become a more sustainable environment for continued prosperity, with equal opportunities for billions of urban dwellers? The 5th IABR was a call to all stakeholders – administrators, policymakers, politicians, designers and cities – to start new alliances and take constructive, sustainable action. 
IABR took up its own challenge, entering into temporary partnerships with local parties and municipalities to develop and implement projects in Rotterdam Central District, an urban park and an eco-corridor in Istanbul, and a strategic action plan for the north eastern area of São Paulo. It also embarked on seven major spatial projects in the Netherlands in partnership with the Dutch Ministry of Infrastructure and the Environment.